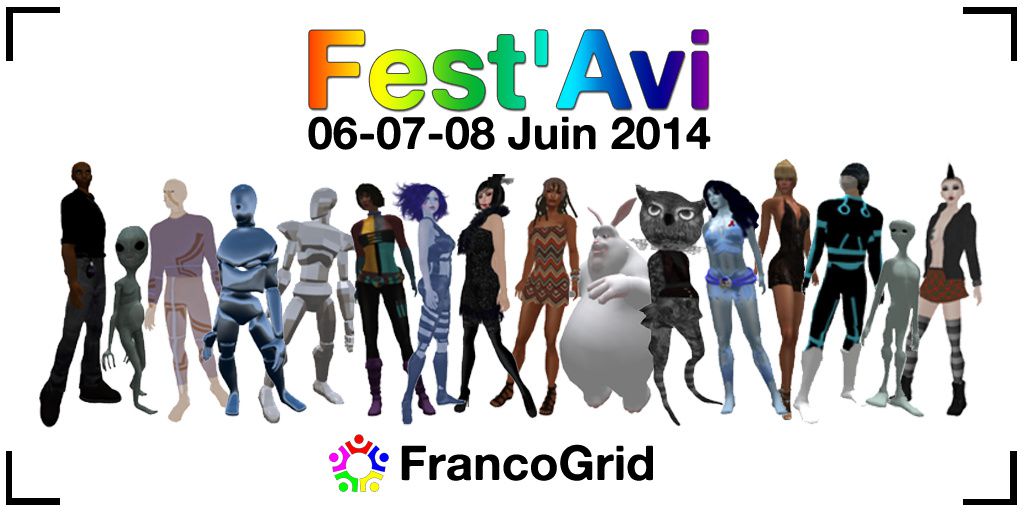 FrancoGrid festival is launched!
FrancoGrid wishes to renew its avatars proposal when opening an account on the website.
Francogrid Fest'Avi runs from 2014/06/06 to 2014/06/08 to renew the avatars proposal for new users when they register on the web site.
These avatars will be available in "freebies" on the grid under CC- BY- NC- SA license.
FrancoGrid residents and those of the Metaverse are invited to submit their original creations.
This collaborative project organized by FrancoGrid takes place on the region "Avatar".
FrancoGrid residents are invited to participate in the construction of this region.
Weekly workshops to support the creation take place on Tuesdays at 21:00 on "Avatar".
This festival is designed to answer to the users needs and contribute to the evolution of FrancoGrid as well as all the Metaverse
FrancoGrid launches an avatar festival : Fest'Avi! The free francophone 3D metaverse event for all OpenSimulator lovers.
http://www.francogrid.org/infos/2014/04/03/francogrid-festival-is-launched